100% Authenticity Guarantee
Excellent Sneakers products have a 100% authenticity guarantee. This means that all products sold on Excellent Sneakers are 100% authentic and brand new.
The sneakers come with the original box and packaging. The Excellent Sneakers Team checks the sneakers for authenticity on arrival. Thanks to our thorough authentication and years of expertise, Excellent Sneakers only sells 100% authentic sneakers.
These shoes are 100% authentic and brand new.
These shoes run small. Take it a half size bigger. If you are in doubt between 42 and 42.5, we recommend size 42.5.
Is your size not in stock? No problem! Send us an email or a direct message on Instagram and we'll see what we can do for you!
What does my package look like?
Excellent Sneakers treats your package with care. All of our sneakers are shipped with protective material. See an example package below.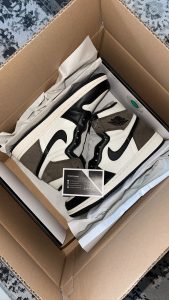 Size chart
| CM | EU | UK | US |
| --- | --- | --- | --- |
| 22,5 | 35,5 | 3 | 3,5 |
| 23 | 36 | 3,5 | 4 |
| 23,5 | 36,5 | 4 | 4,5 |
| 23,5 | 37,5 | 4,5 | 5 |
| 24 | 38 | 5 | 5,5 |
| 24 | 38,5 | 5,5 | 6 |
| 24,5 | 39 | 6 | 6,5 |
| 25 | 40 | 6 | 7 |
| 25,5 | 40,5 | 6,5 | 7,5 |
| 26 | 41 | 7 | 8 |
| 26,5 | 42 | 7,5 | 8,5 |
| 27 | 42,5 | 8 | 9 |
| 27,5 | 43 | 8,5 | 9,5 |
| 28 | 44 | 9 | 10 |
| 28,5 | 44,5 | 9,5 | 10,5 |
| 29 | 45 | 10 | 11 |
| 29,5 | 45,5 | 10,5 | 11,5 |
| 30 | 46 | 11 | 12 |
| 30,5 | 47 | 11,5 | 12,5 |
| 31 | 47,5 | 12 | 13 |